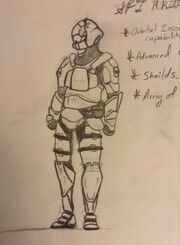 This is a Maverick Article
SPI was siezed almost immediately after the war but mainly as an ownership contract. Rebuilding the SPI initiative did not comence until late 2559. Mass production of the combat armor did not begin however until 2560 although multiple companies were prototyping the armor already. 
SPI Mark III
Edit
SPI Mark III was introduced to the entire ODST crew of the UNSC Deliverance once its individual and controlled testing phase was complete. The armor needed to be assessed in ODST-norm environments. The UNSC Deliverance carried a large enough company of ODST's to accurately test the suits performance and the reaction of ODST's towards the new armor and gear. Since Deliverance was likely to engage in multiple civillian and hostile relations along its maidan voyage the ships own testing phase would be doubled as the suits aswell. Piggy-backing two prototype systems was cost effective and situationally regarded as a lucky spot to fill. 
The SPI Mark III served a hightened role as the ODST division itself. The infiltration ability and further more, stealth once inserted along with an array of enhanced gear further enforced the validity of the ODST division in comparison to the growing Spartan branch. Rather than calling competition to the two branches the new ODST combat uniform granted ODST's a hightened ability to perform in their specilty with equipment not widely used by Spartan forces. 
Suit Features
Edit
The suit required no furthered augmentations to be worn
Was more durable on the field and during HOEV Drops
Shield system
More resilient armoring with multi layer gel systems
Advanced camafluage
Standard Suit thruster pack 
Magnetic Boots 
Grapling hook 
Advanced cooling systems
Advanced VISR system
SMART-NET communications interface
Ad blocker interference detected!
Wikia is a free-to-use site that makes money from advertising. We have a modified experience for viewers using ad blockers

Wikia is not accessible if you've made further modifications. Remove the custom ad blocker rule(s) and the page will load as expected.