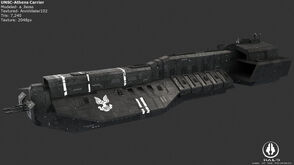 "The convoy met its fate"
Convoy OCS (Outer Colony Ships)-92 was a convoy of ships sent to render to the UNSC Teddy Roosevelt.
Infamous battle
Edit
The convoy was furoisly attacked by insurrectionists ships inside an asteroid belt sometime around the year 2525.
Previous:

Convoy OCS-92

Conflict:

Insurrection

Commanders

Unnamed Naval Admiral




Strength

Atleast 9 unarmed transports




Casualties

7 transports destroyed




 
Convoy OCS-92 could be refering to the Convoy ONS-92 during World War II on Earth.
Ad blocker interference detected!
Wikia is a free-to-use site that makes money from advertising. We have a modified experience for viewers using ad blockers

Wikia is not accessible if you've made further modifications. Remove the custom ad blocker rule(s) and the page will load as expected.