This is a Maverick Article.
Background
Edit
The Central Systems League or the CSL is the primary authority and influence operating on the far side of the Galactic core opposite to that of the Milky Way Alliance. The Central Systems League oversees over a dozen different species and intelligences lead by a triumvirate of leaders from three founding factions who direct government, science, and defense of the entire conglomerate.
Formation
Edit
Forming in 2400 from an Alliance of the founding species successfully providing governance and protection for a plethora of less advanced or less advantaged civilizations following a large scale war against the Seran species eventually forcing them into a mass exodus out of the galactic region. The three protectors organized the Central Systems League in order to ensure their own continued dominance and influence over the galactic region while ensuring a safe community. A class system to exists within the League by the year 3,000 which had members serving very specific roles within the League beneath the Avatars for these roles represented by the founding leading triumvirate.
Organization
Edit
As previously mentioned the League operates in a caste/class society while equal each species serves an overarching role within the League under three primary Avatars of responsibility for the society whom are the founding triumvirate races of the League. Species below the Avatars constantly battle political wars for dominance over one another to prove their minor roles importance over another in order to gain favor and position within the League. The three Avatars of the League include Government, Security, and Science. While it is understood that these castes do not facilitate everything a civilization needs to survive they remain the primary three tenets of the League.
Government
Edit
Csy

Borellian
Hernn

Jestopi

Security
Edit
Kirk

Vahdon

Lyson
Eru

Pentra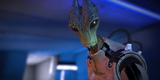 Lu

Nu
Wanlians

Ad blocker interference detected!
Wikia is a free-to-use site that makes money from advertising. We have a modified experience for viewers using ad blockers

Wikia is not accessible if you've made further modifications. Remove the custom ad blocker rule(s) and the page will load as expected.