Previous:

Next:

Unknown

Battle for OrionIV

Conflict:

Insurrection

Date:

November 25th, 2558

Location:

Orion IV

Outcome:

Covenant Victory

Belligerents

UNSC

Black Delta

Covenant

Commanders

Unknown

Unknown

Unamaed Covenant General

Strength

20 Charon-class light frigates

1 CAS-class assualt carrier

Casualties

2,567 Rebels

Others

5,000 Civilians

 
The planet of OrionIV, used to be a peaceful planet until a great revolt lead to the capital's downfall. Many Men, Women, and children were killed during this revolt. The master minds behind it were the rebel group
Black Delta
.
Reinforcements
Edit
Thousands of UNSC troops were called in to help the revolt but Black Delta was too strong. The UNSC then called for heavy weapons including 2 Marathon Class Cruisers, 10 Frigates, and 15 Spartan-IV's. Among the Spartans was Fireteam Saber. Eventually, the rebels became overwhelmed by the Spartans and fled. But after they left, and even bigger threat arrived.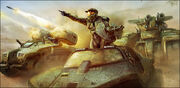 The Covenant
Edit
After the rebels left, Covenant carriers and cruisers came out of slip space. Even more UNSC reinforcements were called in. Outgunned and outnumbered, the UNSC eventually retreated to saftey.
Aftermath
Edit
When the UNSC became overrun, they ordered all units in the are to retreat. The covenant then later glassed the whole city leaving no survivors, including the covenants own troops that didn't make it.
Ad blocker interference detected!
Wikia is a free-to-use site that makes money from advertising. We have a modified experience for viewers using ad blockers

Wikia is not accessible if you've made further modifications. Remove the custom ad blocker rule(s) and the page will load as expected.